Press-On Nail Adhesive Tabs (5 Sheets)
$4.99
Press On Nail Adhesive Tabs allow you to apply false nails without a hitch. These best nail adhesive tabs come in a variety of shapes and sizes so that you can find the perfect fit for your nails. All you have to do is peel off the protective paper and stick the tab on your nail. With these double-sided tapes for press-on nails, you can have beautiful nails in no time!
Why SENA NAIL?
More Bigger & Sticky
More Thinner
More Safety (SGS Qualified)
Apply / Remove Anytime & Anywhere
Safety Payment Secured by SSL
Easy Return & Refund
Description
Press On Nail Adhesive Tabs
Difference between SENA NAIL's & Others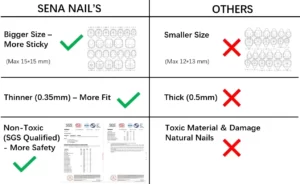 Size: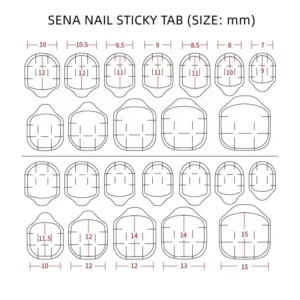 Package contents: 5 sheets adhesive tabs.
Ingredients: Butyl Acrylate, 2-Ethylhexyl Acrylate, Acrylic Acid, Ethyl Acetate
Test report:
Super easy apply & remove:
Check the detailed usage method in user manual -> how to use press on nails