How Much Are Acrylic Nails?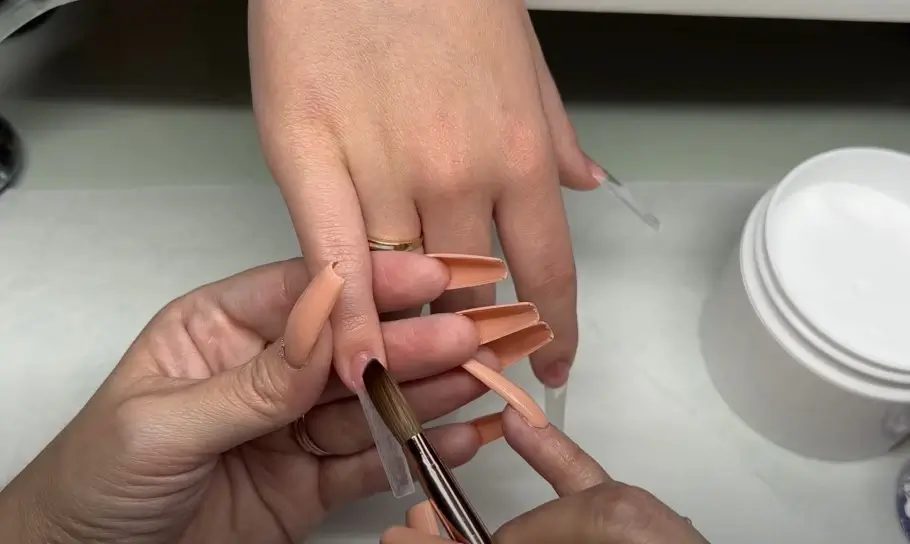 What first is acrylic nails? They are an excellent way of increasing the women's style and giving them self-care and self-confidence. But then, these may look fake but are usually in most nail salons. Plus, these are famous as utilized by women.
But the question is, "how much are acrylic nails?" Do they fall in your budget? In this article, you will learn more about the cost of acrylic nails, including the options for a manicure.
The Answer to the Question
How much are acrylic nails? It will depend based on your location and the type you get. You could still expect them to run from 25 dollars to 55 dollars in the United States. So, better prepare your budget so you can pay for this.
The Price of Acrylic Nails for Brands and Designs
There are prices you'll pay for the brands and designs of acrylic nails. The pink and white acrylic nails require more materials and time to complete. The total set price can cost you like fifty to eighty dollars. For something as a creative design, it can fall around one-hundred to one-hundred twenty dollars. These can range from holiday patterns, French tips, and solar tips.
But if you opt for acrylic nails and branded materials, it can cost you more bucks. Other local salons would present you with an option of choosing between a non-brand or brand material. High-quality salons would use branded nails and materials. Opt for a brand prioritizing the safety of your nails.
For longer nails, you'll pay around five to ten dollars more. It is since the salon might require extra materials and time to cover the staples. But then, if you have a tight budget, you may try acrylic nails that come with tips, as this would cost you less time and less money.
The Prices of Acrylic Nails That Feature Designs
How much do acrylic nails cost featuring designs? It will cost you more if you want nails done following a specific pattern or design. This is since a technician requires more time to create a desirable look. A minimalist or simple design will not cut a hole in your pocket. But then, you will be surprised with how long it takes to finish more intricate designs. 
Better yet, talk to a nail technician to ensure the design falls to your budget. Plus, it will also see to it the expertise of a technician. The good news is that the sky is the limit considering cute designs. There are so far the most costly acrylic nails like the black diamond nails of Kelly Osbourne. These required them to pay a whopping 250, 000-dollars.
The Prices of Fake Nails (Best Alternative for Acrylic)
If you want another alternative to acrylic nails, there are fake nails (press on nails). They are a set of decorated and ready-made press-on nails. They are very much amazing, you can find them on reputable websites. They are also reusable which can reduce the cost of these beautiful nails. Press on nails absolutely safe compared with acrylic. The only problem is you will apply them yourself, but it's super easy to use and remove. It can cost you an average of 10~20 dollars to purchase a set of decorated press on nails.
High quality press on nails are made by ABS plastics which is more softer and more resilient than acrylic nails. Press-ons is more reach to natural nails. You may want learn more about press on nails vs acrylic.
The Amount to Tip for the Acrylic Nails
Tipping can somehow be a controversial topic. If you skip out on the tip, it can come off as a height of rudeness. It is also something that they have not tried and thought about at all. The question also lies with the location to tip. Will it be at the restaurants and other places you like to tip, like a salon?
So, would you like to tip? How much for acrylic nails tip? In all U.S locations, you will tip at around fifteen to twenty percent of the entire price. This can equate to about five dollars to ten dollars. You will have to leave a tip if you fall outside the U.S.
If you're still in doubt, you better ask to be sure about it, as this may seem like a conversation you want to avoid. But then, you won't leave with hard feelings to the nail technician. If you have a plan of going back, you must know it for the long-term.
In this case, how then you could be sure about it? How will you best avoid social faux pas in this situation? You better learn more about the etiquette of tipping at a salon. This way, you'll best manage your subsequent acrylic nail preparation.
The Acrylic Nails Preparation Worth Your Money
Acrylic nails will rely much on personal preferences. If you like something of premium quality, better to visit a salon. Some of these places provide the perfect type of acrylic nails. High-quality manicures are even worth spending your money.
If you want to stick to your budget, do some acrylic nails when at home than in a cheap salon. Local places would not provide for a satisfactory outcome. Apply manicure at home with a complete kit set of acrylic nails, and lots of patience.
Removing acrylic nails can just be relatively painful and hard, too. If you do not know about removing acrylic nails when at home, better it reach out to the nearest salon. Never bring harm to your nails while you experiment on acrylic nails.
Other Factors That Affect How Much Are Acrylic Nails
Below are other factors that affect how much are acrylic nails.
It will boil down in the salon before the price of a nail service, which includes acrylic nails. Some salons would charge like 25 dollars which is very affordable, as this is in the case of a set of expert acrylic nails. In most high-end salons, they may charge like 55 dollars. That does not still include the tip.
If you are artistic and handy, you may try out acrylic manicures. You could buy a set of two-hundred to five-hundred acrylic nails in the price range of 10 dollars to 15 dollars. Know that you can customize acrylic nails accordingly in its length. So, it won't matter the size of the nails.
Salons usually begin with a similar length of acrylic that cut acrylic nails following the desired length. They utilize similar materials, either short or long acrylic nails. Most of them would charge a comparable price no matter what the cut.
Family and Friends' Referral
It is way better to ask family and friends how much are acrylic nails. It could be that one of them has had their nails completed recently. They will provide you with a better idea about the costs of such in the area. They may even recommend to you the salon they just went. Better yet, check them on Facebook's local groups.
Usually, the experience in the salon can affect the cost of the acrylics. When you get acrylics while gazing out above the tall building with that beautiful city view, and a beautiful lake, it might then cost you. If you will go anywhere fancy, it's when you will pay more. The cheapest option is to settle with a salon that prices reasonably. Search for a place without the frills. There will be no such thing as a charming vista, and massage chairs. The second choice would be to opt for a mobile nail technician. One is even cheaper as compared to a salon visit. They have no similar overheads like a brick-&-mortar business.
How much are acrylic nails? It will vary on what it is you want. If you're just after a basic set, you will pay like 45-dollars. If you wish your acrylic nails to be polished, this can cost you extra. Nail design and art can be the most costly option for acrylic nails. Pay like 20-dollars and more when you want swirls, gems, and other effects.
If you want something simple, like a short type of acrylic set alongside a plain and polished color, you will be paying the base price for nails. The extra charges to pay will include the stiletto nails, multiple colors, French tips, jewels, and designs. With any of these additions, the question how much are acrylic nails is answered by the bill that could increase by 25-dollars to 80-dollars. The acrylic manicure can even cost more when you want powder dip nails or gel polish rather than a regular polish. Most customers would opt for these options as they would last longer.
Acrylic Nail Supplies to Buy For DIY Acrylic Nail Application
Below are supplies you may buy if you want to go on a DIY acrylic nail application.
The kit will have the things you need plus detailed instructions. Read the ingredients; that way monomer won't have MMA. This MMA is a dental acrylic, which is too hard for a natural nail. Search for what other people would recommend for brands that promise professional uses
2. Nail tip glue and Acrylic nail tips
Tips can be quite long, allowing you to trim and file down to the desired size and shape.
3. Acrylic nail files and clippers
The regular files and clippers are not as effective as the acrylic nails. The one-hundred eighty, two-hundred forty, one-thousand, and four-thousand grits would be enough. Even a coarser file compared to the clumpy result of one-hundred eighty grit.
4. Acrylic powder and Acrylic liquid
Mix these substances together, creating acrylic nails. Move away from MMA monomers and opt for the EMA.
5. Acrylic brush and Acrylic bowl
These supplies are essential when mixing up acrylic and applying it. It can fall somewhere around sizes eight to twelve as a perfect choice.
Now, you've learned about how much does acrylic nails cost and if you are ready for acrylic, please keep learning more about acrylic, you may face sore nails after acrylics. It helps you to prevent the issues in advance.